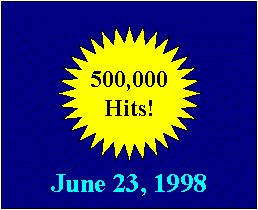 In Celebration of
500,000 Hits at
http://billslater.com
June 23, 1998

(c) Internet Society; reproduced with permission

To celebrate the 500,000 hit count mark, I joined the Internet Society (see http://www.isoc.org) and made plans to start a Chicago Chapter of the Internet Society. None exists at the present moment. I am doing this with the help of some other friends colleagues. For more information, e-mail me, or go to http://www.isoc-chicago.org .

The Internet Society is one of the most important organizations in the world for advancing the causes of Internet education and Internet improvement. And the organizations which comprise the Internet Society, such as the Internet Engineering Task Force (http://www.ietf.org) have played some of the most important roles in creating and evolving the Internet and the technologies which make it possible. The IETF's logo is shown below. It has to be one of the coolest logos in the world: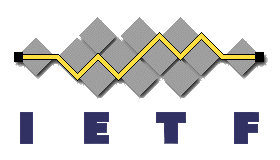 (c) Internet Engineering Task Force

See the chart below for timeline of Internet Evolution and the organizations which were there, making it happen.
(c) Internet Society; reproduced with permission; from A Brief History of the Internet
If you are not already involved in the Internet Society, I encourage you to join and become involved. The Internet will play a key role in many areas of our society and economy now and in the foreseeable future. Become part of one of the world's most important societies. Join today!!!
By the way, in case anyone is curious, I am providing the statistics for my website which were tabulated the day my website went over the 500,000 hit count mark. Check the bottom of the page for the report. The statistical collection program is called analog2.11/Unix.
Bill Slater

Last Updated: June 27, 1998
By Bill Slater, Webmaster
---
Statistics Report Which First Showed the Hit Count Over the 500,000 Mark
Program started at Wed-24-Jun-1998 03:12 local time.
Analysed requests from Fri-26-Sep-1997 16:02 to Wed-24-Jun-1998 03:13 (270.5 days).
Total successful requests: 501 206 (21 442)
Average successful requests per day: 1 853 (3 063)
Total successful requests for pages: 159 767 (7 961)
Average successful requests for pages per day: 591 (1 137)
Total failed requests: 4 887 (290)
Total redirected requests: 291 (30)
Number of distinct hosts served: 22 586 (1 235)
Number of new hosts served in last 7 days: 906
Corrupt logfile lines: 17 381
Unwanted logfile entries: 9 577
Total data transferred: 3 440 Mbytes (106 068 kbytes)
Average data transferred per day: 13 023 kbytes (15 153 kbytes)
(Figures in parentheses refer to the last 7 days).
---
   month: kbytes:  #reqs: 
--------  ------  ------  
Sep 1997:  22179:   3523: 
Oct 1997: 129824:  13228: 
Nov 1997: 127890:  10880: 
Dec 1997: 222388:  21308: 
Jan 1998: 454844:  42008: 
Feb 1998: 370587:  55588: 
Mar 1998: 518466:  86404:
Apr 1998: 606891:  90866: 
May 1998: 665367: 103558: 
Jun 1998: 403828:  73843: 

---