Bullying Resources
My Personal Statement Against Bullies and Bullying in every form:
I absolutely despise all Bullies and every form of Bullying. I got into Judo many years ago to learn to deal with physical bullying. Many years later, I was certified as a Judo Coach and Instructor. Teaching young people to defend themselves from physical bullying is one of the most gratifying experiences that I have ever had. You can see some of these Judo Club pictures here: http://billslater.com/judo . My name, William, means Helmet and the Protector. Today, I will always protect my IIT students and those who are closest in my life from the perils of bullying.
Bullying in the News
Date
News Item(s)
Comments
2013 0411

Canadian Bullies that hurt Rehtaeh Parsons, Anonymous is looking for you. You can run but you cannot hide.

From Anonymous Operations
Canadian teen commits suicide after alleged rape, bullying - Global "Hacktivist" group Anonymous releases video, vows to name names (Video included in post)

- CNN

http://bit.ly/10T3lya

People Magazine http://bit.ly/16O0uM3

and ABC News http://abcn.ws/ZGFLuA

pick up the story

Anonymous hackers threatens to out Canadian teen's alleged rapists http://www.thenewsinformer.com/2013/04/anonymous-hackers-threatens-to-out-canadian-teens-alleged-rapists/

#RehtaehParsons

- Actress Jada Pinkett Smith posts condolences on her Facebook page:http://on.fb.me/10X2cIg
Some Preventative Resources: Keeping Your Children Safe Online

Internet Trolls - A Unique, But Common, Type of Cyberbully
Internet Trolls have a form of Mental Disorder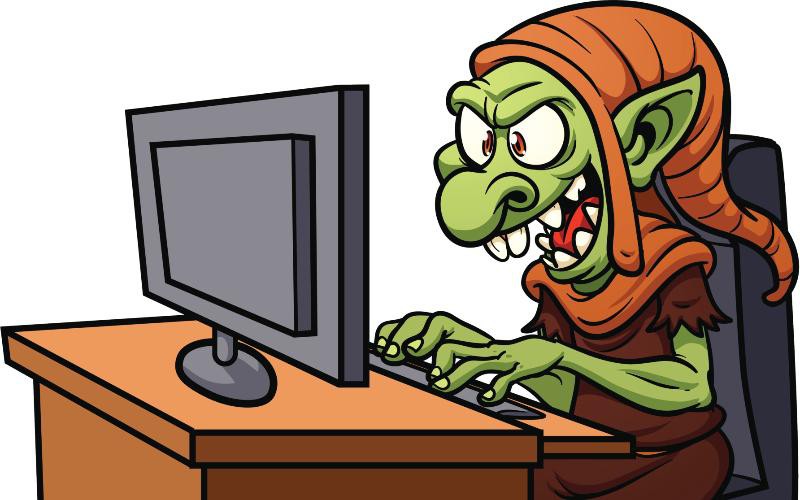 An Internet Video Horror Story - Taping the Bullying of a Dunkin Donuts Employee
Meet Taylor Chapman - The Bully (and Law Student!) Who Recently Abused Dunkin Donuts Employees and Planned to Put it on YouTube (This Really Backfired!)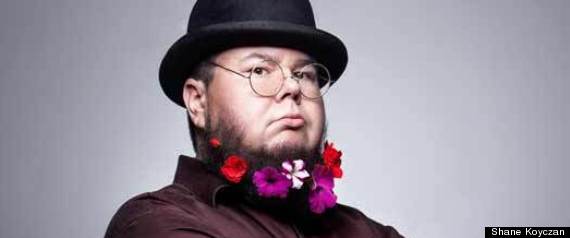 Shane Koyczan: "To This Day" ... for the bullied and beautiful - A GREAT TED Video - It will bless your heart
An article and short video about Shane Koyczan
Workplace Bullies and Workplace Bullying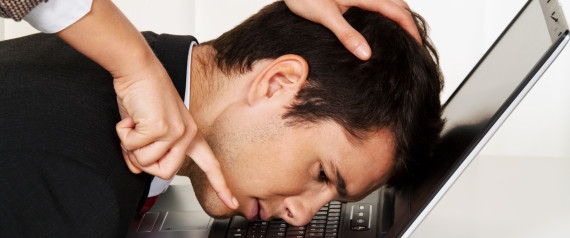 Why Workplace Bullies Get Away With It
How to get the Office Bully to back off
Employer Workplace Bullying Policies – WBI Survey – 2012-B
Cyberbullying: More Real Than You Think
Workplace Bullying - What can you do?
Workplace Bullying - Who's your Bully?
Expert Answers on Workplace Bullying
10 Warning Signs of a Potentially Toxic Boss at an Interview
How to Handle Backstabbing Coworkers
How to Handle Sabotaging Coworkers
Untamed Teacher. (2009). Resisting the Bloomburg Attack on NYC Teachers and Public Schools: Mobbing Typology, published on January 2, 2009. Retrieved from the web at http://untamedteacher.blogspot.com/2009/01/mobbing.html on September 10, 2011.
CBS News. (2011). Bullying: Words Can Kill. Produced by Deborah Grau and Judy Rybak. Retrieved from the web at http://www.cbsnews.com/stories/2011/09/16/48hours/main20107537.shtml?tag=strip on September 16, 2011.
Davenport, N., et al. (2005). Mobbing: Emotional Abuse in the American Workplace. Civil Society Publishing: Ames, IA.
Kohut, M. R. (2008). The Complete Guide to Understanding, Controlling, and Stopping Bullies and Bulling at Work. Atlantic Publishing Group, Inc.: Ocala, FL.
Pollay, D. J. (2010). The Law of the Garbage Truck: How to Respond to People Who Dump on You and How to Stop Dumping on Others. Sterling: New York, NY.
http://www.workplacebullying.org
http://abcnews.go.com/US/special-student-taped-bully-teachers/story?id=14923206#.TrxltfQUqsp
What do bullies hate the most? Having their evil deeds made known to the public!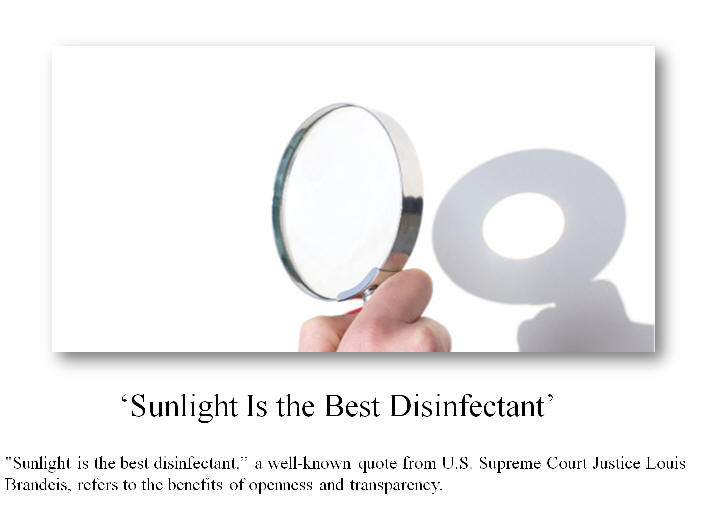 A Real Life Story About Bullies - It Was A VERY Expensive Lesson For Them
SAIC's Culture of Deceit, Dishonesty and Bullying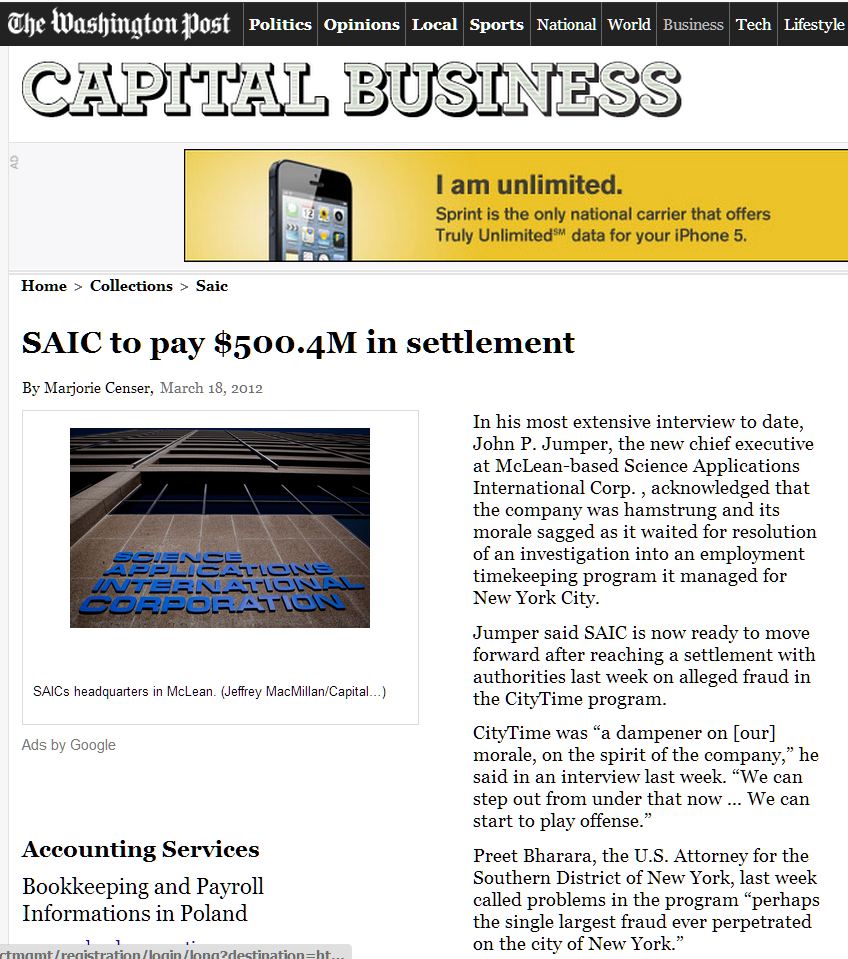 SAIC's Culture of Deceit, Dishonesty and Bullying:
I saw some really spectacular karmic whammies in 2012, but the sweetest one was SAIC.
2001 - 2003 - While at SAIC, the management and coworkers tormented me and created a toxic work environment for me to work in, every day. I even reported this to the company Ethics Hotline but they did nothing because they were in bed with Management and Management allowed and probably even encouraged this Toxic Bullying, Mobbing Culture.

One of their favorite things to bug me about was to make the inputting of my work time data so difficult that it would sometimes take as long as four hours to get it all together and put it in because I was doing complex tasks and the work of three people (Data Center Manager, Change Management Manager, and System Administrator). So I went off on vacation in July 2002 to a Slater family reunion in Canada, and did the analysis of my job, and designed and wrote a highly accurate time-tracker program for Windows using Visual Basic. After I started using the tool I created, they never messed with me again about Time Reporting. But during a staff meeting after I returned from vacation and showed them the progam and its output, they laughed at me and mocked me and said that they never would have created something like that while on vacation. My response was, "Well, you're not me." You can see the program and the story of my Time Tracker program creation at these links:
http://billslater.com/career/wfs_Time_Tracker_.pdf
http://www.billslater.com/uop/Course_work/CMGT_576_Week_04_Paper-VB--William_F_Slater.htm
2002 - A few weeks after I wrote my program, I asked my boss during a one-on-one meeting if she could explain how our Team was not living up to the majority of statements in this one-page reminder on ethical behaviors (see below). She became enraged and immediately terminated the discussion.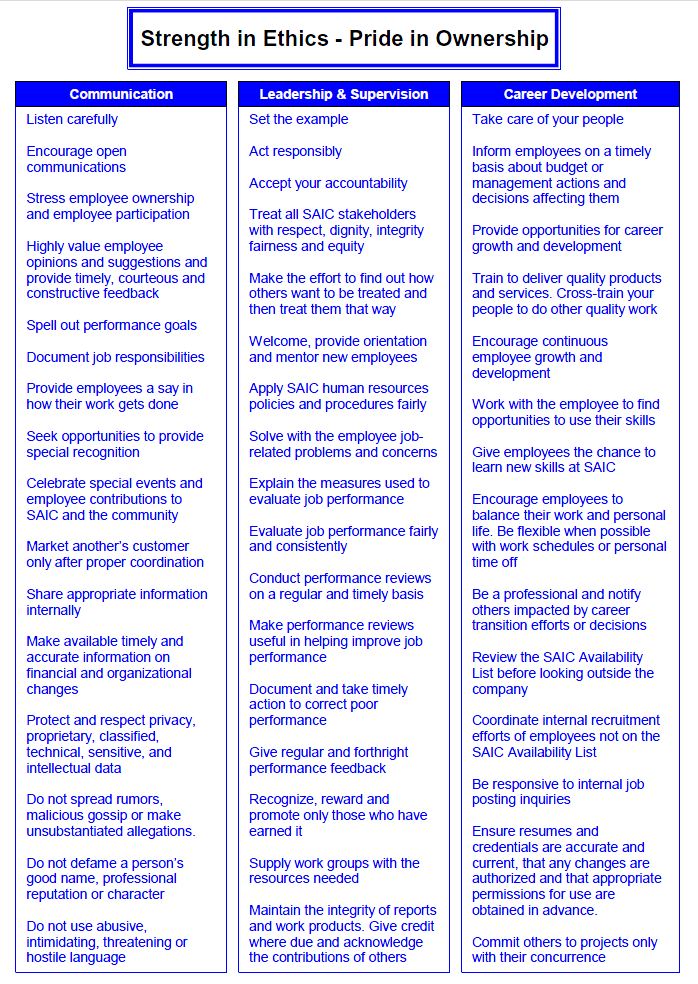 2003 - My boss verbally trashed me publically after her best friend was reported for sending out a defammatory e-mail about me. Both she and her best friend were severely disciplined for this.
2012 - SAIC gets in HUGE trouble over time charge discrepancies and falsely overcharging for time reporting with the City of New York. They negotiated a settlement, but the penalty levied in the settlement was $500.4 MILLION. Root causes: 1) Inability to live up to their Code of Conduct; 2) A culture of Bullying in their Management Ranks; 3) Inability to administer an effective Ethics Hotline program. You can see the SAIC $500.4 MILLION outcome at this link: http://www.bloomberg.com/news/2012-03-14/saic-to-pay-500-million-to-settle-new-york-city-time-fraud-case.html
Isn't ironic that within 10 years, SAIC got such a huge Karmic Whammy, and that it was all related to Time Reporting, both times?
No Delete Key
SAIC just wanted to pay the $500.4 million and make this bad news go away. But what they forgot is that there is No Delete Key on the Internet. As long as there is a Google, and other search engines, this SAIC fraud story will be out there on the Internet. And actually, that's a good thing.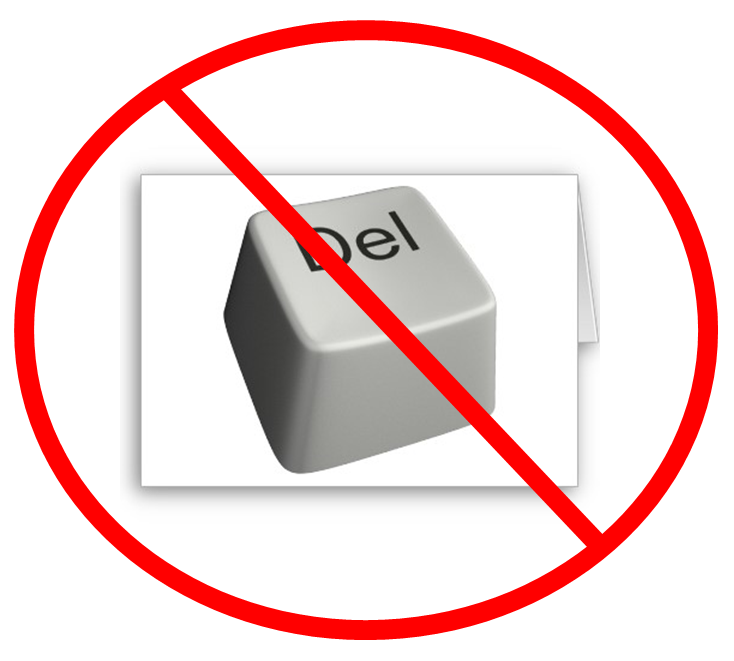 = = = = = = = = = = = = = = = = = = = = = = = = = = = = = = = = = = = = = = = = = = = = = = = = =
SAIC's Official Statements about the CitiTime Matter with New York City:
LEYMANN'S TYPOLOGY OF MOBBING
Dr. Leyman identified 45 different mobbing behaviors and grouped them in five different categories, depending on the nature of the behavior. Not all of them will occur in every case. Here they are:
FIRST CATEGORY: IMPACT ON SELF-EXPRESSION AND THE WAY COMMUNICATION HAPPENS.

1.1 Your superior restricts the opportunity for you to express yourself.
1.2 You are interrupted constantly.
1.3 Colleagues/workers restrict your opportunity to express yourself.
1.4 You are yelled at or scolded.
1.5 Your work is constantly criticized.
1.6 There is constant criticism about your private life.


SECOND CATEGORY: Attacks on One's Social Relations

2.1 People do not speak with you any more.
2.2 You cannot talk to anyone i.e. access to others is denied.
2.3 You are put into a workspace that is isolated from others.
2.4 Colleagues are forbidden to talk with you.
2.5 You are treated as invisible.


THIRD CATEGORY: Attacks on your reputation

3.1 People talk badly behind your back.
3.2 Unfounded rumors are circulated.
3.3 You are ridiculed.
3.4 You are treated as if you are mentally ill.
3.5 You are forced to undergo a psychiatric evaluation/examination.
3.6 A handicap is ridiculed.
3.7 People imitate your gestures, walk, voice to ridicule you.
3.8 Your political or religious beliefs are ridiculed.
3.9 Your private life is ridiculed.
3.10 Your nationality is ridiculed.
3.11 You are forced to do a job that affects your self-esteem
3.12 Your efforts are judged in a wrong and demeaning way.
3.13 Your decisions are always questioned.
3.14 You are called demeaning names.
3.15 Sexual innuendos.


FOURTH CATEGORY: Attacks on the Quality of One's Professional and Life Situation

4.1 There are no special tasks for you.
4.2 Supervisors take away assignments, so you cannot even invent new tasks to do.
4.3 You are given meaningless jobs to carry out.
4.4 You are given tasks that are below your qualifications.
4.5 You are continuously given new tasks.
4.6 You are given tasks that affect your self-esteem.
4.7 You are given tasks that are way beyond your qualification in order to discredit you.
4.8 Causing general damages that create financial costs to you.
4.9 Damaging your home or workplace.


FIFTH CATEGORY: Direct Attacks on a Person's Health

5.1 You are forced to do a physically strenuous job.
5.2 Threats of physical violence are made.
5.3 Light violence is used to threaten you.
5.4 Physical abuse.
5.5 Outright sexual harassment.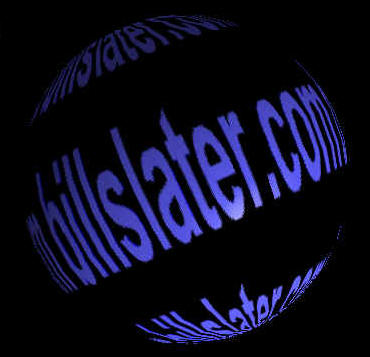 TM
---
Visitor Count

Click on the Map to the Recent Visitor Locations
---
Copyright 1996 - 2015 by William F. Slater, III,
Chicago, IL, USA
All Rights Reserved, Nationally and Internationally.

Last Updated: Sunday, November 26, 2017