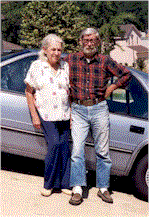 David Hickson with his wife,
Jane Hickson in 1991,
in Columbus, GA
immediately after the death
of their beloved daughter,
Dana Katherine Hickson
In Memorium
David Keith Hickson, Sr.
September 21, 1935 - July 16, 2000
David Keith Hickson, Sr. also known as Dave Hickson, a devoted father, husband, retired cable TV worker, and accomplished overall handyman, passed away suddenly on July 16, 2000 in Biloxi, MS at the VA Hospital, after suffering from three forms of tobacco-induced cancer: lung, throat, and bone. He was a resident of Mobile, AL, since 1992, though he was born and lived most of his life in Memphis, TN. He is survived by his step-son William F. Slater, III of Chicago, IL, his step-son Michael David Apperson Slater of St. Paul, MN, his step-daughter, Sheryl Slater Lum of Baton Rouge, LA, and his namesake son David Keith Hickson, Jr., also of Mobile, AL. His beloved wife, Nona Jane Hickson preceded him in death just two weeks earlier on July 3, 2000, and their beloved daughter, Dana Katherine Hickson, preceded Mr. and Mrs. Hickson in death, in August 1991, which was a loss from which he and his wife never completely recovered. Mr. Hickson also leaves four step-grandchildren: Angela Slater, Chelsea Slater, Jennifer Lum, and Brennan Lum. Mr. Hickson was the youngest son of George Hickson and Posie Hickson, both of whom were from Memphis, TN and both of whom are deceased.
Mr. Hickson was a recent widower and had been married to Mrs. Hickson for 40 years and three months when Mrs. Hickson preceded him in death on July 3, 2000. During the last years of his life and that of his wife, Mr. Hickson played the constant role of dedicated caregiver to Mrs. Hickson, rarely leaving her alone for more than a few hours a week. Those who were close to the situation knew that this required the patience of Job, and would have been worthy of a medal if they were given for such feats of dedication.
Mr. Hickson was a deeply private person who loved his family, his home, his dogs, his computer, the Internet, and sports. He especially loved the Chicago Bulls, the Chicago Cubs, the Denver Broncos, and the Atlanta Braves. He will be missed greatly by his two dogs, a pair of pure-bred German Schnauzers, named Ace and Schnappy. Mr. Hickson was a very bright, charming, and articulate man and, unbeknownst to many, he had, with the help of his step-son, William F. Slater, III, and several books, taught himself computing using various PCs, the Windows 95 and Windows 98 operating systems, Internet Explorer and the World Wide Web. He enjoyed working with computers so much and had such an aptitude for it that his wife often mused that if computers had been commonplace when Mr. Hickson was younger in his life, that he would have chosen computing as a career path.
Unfortunately, Mr. Hickson was yet another casualty in the tobacco industry's relentless campaign of death, in its peddling the glamour and coolness of highly addictive nicotine in the form of cigarette tobacco. It is likely, that without the negative effects of the cigarettes that Mr. Hickson was addicted to, that he would have easily lived another 10 to 15 years. This author hopes that tobacco company executives can sleep at night after considering the tremendous losses that U.S. government-subsidized tobacco products have unleashed and continue to unleash on the American public. If anyone is interested, Mr. Hickson's favorite cigarette brand was Pall Mall Gold, and the frequent smoking of these by him and his dearly departed wife, Mrs. Hickson, made their home quite nearly uninhabitable for people who were non-smokers such as his eldest step-son, William F. Slater, III and his step-daughter, Ms. Sheryl Slater Lum. In fact, the Hicksons' incessant smoking most assuredly prevented both the son and daughter from visiting with any regularity. Nevertheless, Mr. Slater and Ms. Lum kept in touch regularly with their family using the telephone.
Below is a list of important links which substantiate the Tobacco Industry's Campaign of Death against human beings:
Mr. Hickson will be sorely missed as a friend, a wise counsel, and a great father, step-father and step-grandfather. And of course, he will be missed by the tobacco companies, who sold him the cigarettes that eventually killed him, and who stand to lose the profits that they could have made, had he continued to live and smoke.
Funeral arrangements are pending and private.
-///-
Written by William F. Slater, III
Eldest Step-Child of Mr. Hickson
July 18, 2000
Chicago, IL
Optional: You may send condolences to: slater@billslater.com