Jimmy Driftwood, the legendary award-winning folk musician, songwriter, teacher, folklorist, and original Grand Ole Opry member from Timbo, Arkansas, passed away on July 12, 1998, at the age of 91, in a hospital in Fayetteville, Arkansas. He had been hospitalized for several weeks after an extended illness. He is survived by his loving wife, Cleda Driftwood and a brother and two sisters.

Jimmy was a prolific songwriter who composed over 6000 songs during his career, and over 300 of those were recorded and/or published. His best known songs included "The Battle of New Orleans" (made famous in 1959 by Johnny Horton and voted during the 1980s as one of America's best loved songs of all time), "The Tennessee Stud" (made famous by Eddy Arnold, Doc Watson and others), "Down in the Arkansas", and "He Had a Long Chain On" (made famous by Odetta). He was the winner of two Grammy Awards for his music, and in the early 1960s, Jimmy was awarded an Honorary Doctorate Degree in Folklore from Peabody University in Nashville.

Jimmy was known and loved by thousands around the world. He and his wife Cleda welcomed and entertained literally hundreds of visitors each year in their ranch home in Timbo, Arkansas (12 miles west of Mountain View, Arkansas). Jimmy got his start as a high school teacher, and used his songs to help teach his classes. The song, "The Battle of New Orleans", was written 18 years before it became famous, in order to help Jimmy explain to his high school history students that the Battle of New Orleans was fought during the War of 1812 instead of during the Revolutionary War. After he achieved fame as a noted songwriter and performer, Jimmy used his influence to help the rest of America and the world discover the wonder and beauty of Arkansas Folk Culture, particularly in the areas of folk music and folk story telling, and to help preserve the environment. During the 1950s and 1960s, he helped preserve the Buffalo River in northern Arkansas from damming, and helped have it declared a National River, to be preserved for its natural beauty. In the 1970s, Jimmy founded the Rackensack Folklore Society in Mountain View and then was instrumental in getting the funds appropriated to build the Ozark Folk Center in Mountain View, Arkansas, and later in the early 1980s, Jimmy and his friends built the Jimmy Driftwood Barn and Folklore Hall of Fame also in Mountain View. Semi-weekly folk music performances are held at the Barn (Fridays and Sundays), where many of Jimmy's songs are still joyfully performed by his friends and fans on stage there.

Jimmy was loved and respected by friends, fans, and fellow musicians from around the world, and he will be sorely missed. The funeral was Wednesday, July 15, 1998 at the Ozark Folk Center. A near-capacity crowd came to say their farewells to the "Bard of the Ozarks". The family requested that in lieu of flowers, that donations be given to charities which support research for the control and eventual eradication of Alzheimer's Disease.

Contact the Jimmy Driftwood Barn (870-269-8042) on Friday nights or Sunday nights for additional information or to purchase music from the Barn's Gift Shop.

-///-

Written by Bill Slater, a personal friend of the Driftwood family.

Click here to see a picture of Jimmy Driftwood with Bill Slater

Click here to e-mail Bill to discuss Jimmy Driftwood and/or his music.

Return to Bill Slater's Main Page
---
---
MUSICAL FACT: The Tennessee Stud is a Jimmy Driftwood song about a legendary horse from Tennessee.

I used to perform Tennessee Stud with a friend, Stan Soliday. He played guitar and sang, and I sang and played jawbone. It's a fun and great song!

The horse was a real horse and belonged to the grandfather of Jimmy Driftwood's wife, Cleda.

For many years, in five different states, I had TN STUD on my car's License Plate:

TX
IL
CO
NH
OH

In 1990, I had a second car and I got TN MARE for that car.

I gave these TN STUD plates to the Jimmy Driftwood in the 1980s and 1990s. Pictured here are Jimmy and his wife Cleda.
Jimmy Driftwood and Bill Slater at the Jimmy Driftwood Barn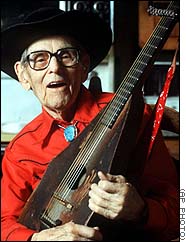 Total: 5 guests
Name: bill burpitt
Website:
Referred by: Just Surfed On In!
From: chapel hill, nc
Time: 1998-07-20 03:19:15
Comments: I was a country dj during the '70s....played a lot of bluegrass. a favorite was Tennessee Stud, sang by Doc Watson...I found several instrumental versions of the song..put together a long, rambling version of the song by combinging Watson's vocal and the various instrumentals. It was easily the most requested "song" on the station for several years. People wanted to know where they could by it. Tennessee Stud, I feel, is as purely American as Copland's Appalachian Spring. Sorry to hear of his death. Thanks for all the great music. It lives on.
---
Name: Tom Simon
Website: Tom Simon's Rock and Roll Page
Referred by: Word of Mouth
From: St. Louis
Time: 1998-07-14 14:18:24
Comments: Goodbye to a dynamic songwriter, and a terrific person. Jimmy and Cleda, I will not forget the kindness you showed me in the year preceding Jimmy's death. You are fine people, and the world has lost a kind, generous man.
---
Name: Dick & Melba Green
Website:
Referred by: Word of Mouth
From: Oxford,AL
Time: 1998-07-13 22:58:35
Comments: I have visited with Jimmy and Cleda on 5 or 6 occasions. Once with my 94 year old mom in a restaurant in Mountain View. You were always super friendly and nice to our family members, and I'm sure that was/is true of everyone who ever approached you. Without you Mountain View would have been a dry hole. You deserved far greater appreciation from MV than you ever received. I hope this statement is false, but that's the way It looks to me. Goodbye Jimmy. You won't be forgotten.
---
Name: Sherwin & Pam Linton
Website:
Referred by: Just Surfed On In!
From: Minneapolis, MN
Time: 1998-07-13 20:13:52
Comments: To Jimmy & Cleda Driftwood, Thank you for all you have given to us and so many with your music, love for your fellow man and the examples you have set with your lives.
---
Name: Bill Slater
Website: Bill Slater's Website
Referred by: From www.GuestWorld.com
From: Chicago now -- Memphis originally
Time: 1998-07-13 02:37:01
Comments: Jimmy you made us all smile with your clever songs about life in America. I hope you blow their socks off out there in Eternity. Thanks for all the blessings you gave us with a life well lived. Your friend always, Love, Bill Slater
---
Created July 12, 1998
Updated on Saturday, November 01, 2014
Bill Slater, Webmaster
---