William F. Slater, III
My First eBook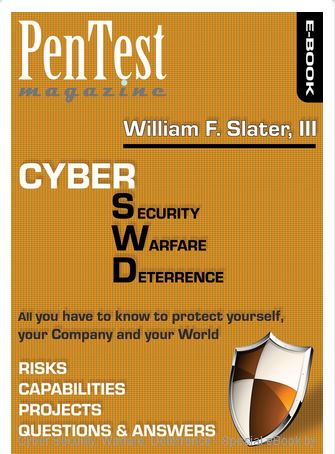 On the occasion of the 20th Anniversary of my first IT Certification, I am announcing my very first eBook publication, a book about Cybersecurity and Cyberwarfare. The cover is shown above, and it will be available for sale at this link:
http://pentestmag.com/cyber-security-warfare-deterrence-special-ebook-by-william-f-slater-iii/
The Dedication that will be added on Monday, June 10, 2013
---=== Dedication ===---

This ebook and all the work that went into its creation is dedicated to the following:
My Lovely Wife, Joanna Roguska, and my Polish Parents, Wiesia and Wiesiek and Roguski, who understand me, love, and inspire me – you unselfishly gave me the loving Family I always yearned to be part of
My Mentor, James P. Jarnagin, who has been a great Mentor, Father-figure, and Friend since 1985
My Mentor, Will David Mitchell, who has been a great Mentor, Colleague, and Friend since 1977
My Favorite Musician, Andreas Vollenweider, whose magical music heals and takes me to that safe and timeless space where I learn, think, write, and create
The Digital Pioneers and Gurus that I admire the most: Countess Ada Lovelace, Claude Shannon, Grace Hopper, Leonard Kleinrock, Larry Roberts, Paul Baran, Vint Cerf, Robert Kahn, Larry Wall, and Radia Perlman – Because you all created the Digital World I could thrive in, I am here.
My Students, who have become the esteemed children that I never had, and whose very loyalty and attentiveness, have supercharged my continued passion for learning, teaching, and communicating – You will always be my students and I will always be here for YOU!
My Teachers, who had the love, wisdom, knowledge, and patience to continue to inspire and teach me, especially during times when I barely believed in myself
My Colleagues at the Illinois Institute of Technology and at Bellevue University who have given me career and teaching opportunities that have far exceeded my wildest expectations and dreams
My Editors and Publishers at Hakin9, especially Ms. Ewa Duranc, who found me on the Internet and kindly worked with and inspired me to get published and continue to write
My Lord and Savior, Jesus Christ, Whose Love and Grace, saved me and will keep me for all Eternity
---=== Introduction ===---

Hello and welcome to my first e-book!
My history with computers and computing is an interesting one as most stories go. In the Fall of 1968, while watching the newly released movie, 2001: A Space Odyssey, I had the opportunity to witness the HAL 9000, an out of control, psycho, homicidal computer masquerading as something that approximated a sentient, Chess-playing being, who was also in control of a gigantic space ship. Though I had never touched a computer or written a line of code, I was so disturbed witnessing the HAL 9000 destroy the lives of several helpless people, as well as try to kill the ship's commander, that as I watched the ship's commander turn off the HAL 9000, I rejoiced at the victory of a human over a computer. At that point, I made myself a promise that if I ever came up against any situation where it was me against a computer, I was going to win.
About five years later, in August 1973, I started my college studies at Memphis State University (now renamed the University of Memphis) as a new freshman, on three scholarships, two academic and one full four-year Air Force ROTC scholarship. I was studying Civil Engineering with an option to minor in Environmental Engineering. A short time after learning that I had a natural aptitude for working with and programming computers, I went to my advisor and told him I wanted to switch from Civil Engineering to something related to computers. As my good luck would have it, the College of Engineering had just launched a new Computer Systems Technology major study program under a degree in Engineering Technology. The program also had a minor field of study in Manufacturing Technology (which were actually like Industrial Engineering courses). So with my major changed, I felt excited and confident that I would complete my next seven semesters in college and graduate with this new Bachelor of Science in Engineering Technology, with a major in Computer Systems Technology and a minor in Manufacturing Technology. At the end of my first semester, in December 1973, I was summoned to a conference with the Dean of the College of Engineering. He was pleased that I had a successful semester, yet he was quite candid in his disappointment about my changing majors into Engineering Technology, with a major in Computer Systems Technology. He even told me that I was making a huge mistake and that I was wasting my time in college in pursuit of a B.S. in Engineering Technology, with a major in Computer Systems Technology. I asked him why? He explained that in the future, computers would be so easy to work with that programmers would be obsolete and unnecessary. As I heard this, I began to realize that it was a scare tactic and that he didn't want to see a bright student with a College of Engineering scholarship switch from Civil Engineering. But I was resolved to transfer into Engineering Technology, with a major in Computer Systems Technology, so I told him so. He was upset, but he accepted my choice, and I did indeed graduate right on schedule on May 7, 1977 and obtain a B.S. in Engineering Technology, with a major in Computer Systems Technology. A day before I graduated, I was also commissioned as a brand new second lieutenant in the United States Air Force, to be assigned as a brand new computer systems staff officer, supporting the Strategic Air Command Battle Staff at Strategic Air Command Headquarters at Offutt Air Force Base Nebraska, with an active duty reporting date of July 15, 1977.
I entered USAF active duty with what I believed was strong knowledge and experience of programming in six languages (FORTRAN, BASIC, ALGOL, SNOBOL, APL, and COBOL, and experience of working with only computer, a Xerox Sigma-9. The largest, most complex program I had ever written from scratch was a FORTRAN timesharing program, with about 350 lines of code and it calculated biorhythm data and printed out small reports on the physical, emotional, and intellectual personal data for a user. I scored an "A" on that project and the Department Chairman, Dr. Weston "Terry" Brooks loved it.
My first assignment in the U.S. Air Force at Strategic Air Command Headquarters involved the car and maintenance of a 7200 line program that was written in JOVIAL. The program worked well, but by today's standards, it still had enough bugs in it to justify assigning a full-time programmer. Here were my challenges: 1) the technical program documentation wasn't current; 2) the program was more than 20 times larger than anything I had ever worked with; 3) I had never programmed in JOVIAL, or GMAP (Honeywell Assembler) and the Honeywell GCOS operating system and associated utilities, so they trained me. Anyway, the work was extremely exciting and today, I now know that few people ever get so much responsibility and so much high visibility opportunity and challenges to prove themselves. Looking back, it made me grow up quickly in this industry, and I am eternally grateful for my USAF experiences in technology and the good teachers and mentors I had along the way.
In late 1980, sadly, I left the USAF and returned to civilian life. It is an over simplification to say that the transition from military to civilian life wasn't "easy". For 15 months. I hoped that there would be some type of "National Emergency" where they would summon me back to active duty, but that didn't happen. So I was then "stuck" in the life of being a civilian IT professional. But I made the best of things, and frankly, it has been a pretty good way to grow and make a living. I have to admit that I have never been bored and that I have pursued each new opportunity as a chance to add value, to learn, to grow, and to improve my skills.
Through the years that followed the USAF, I had many jobs and acquired many new skills. Among those skills were:
Program Management | Project Management | Portfolio Management | Strategic Planning | Business Analysis | Business Strategy | Technical Leadership | Technical Management | Technical Staff Management | Data Center Management | Data Center Operations | Information Security Management | Cybersecurity | ISO 27001 | PCI DSS | FISMA | FedRAMP | Infrastructure Management | Social Engineering | Operations Management System Analysis | Risk Management | Knowledge Management | Information Systems Development | Programming | Problem Management | Incident Management | ITIL-based Service Design and Service Management | Information Security Management | Agile Project Management | Troubleshooting | Network Security | Network Administration | Change Management | Services Management | Cloud Computing | Cloud Data Center Management | Mentoring | Strategic Planning | Staff Mentoring | Writing Technical Writing | Teaching/mentoring | Team Building | System Administration | System Design | Application Development | Architecture Security | Architecture Design | Database Administration | Database Design | Database Implementation
Some General Lessons Learned
· A good Internet domain name and associated website will go a long way toward enhancing your marketability
· Always work hard and give 120% to ever task and job
· It's not how hard you work, but rather HOW MUCH work you get done
· If you are standing still in your career development and learning, you are falling behind
· Spend a LOT of time outside of work, working outside work, to hone your skills and experience
· Get a mentor to guide and advise you ( see http://billslater.com/mentors.htm and http://billslater.com/mentoring )
· Remain flexible
· Spend your own time and money on the resources (books, hardware, and software) that you need to be successful
· Learn as much as you can about risk management, service management, data centers, and security
· Aspire to learn leadership skills and to assume greater and greater positions of influence and responsibility
· Continually hone your communication skills (written, speaking, and listening) so you can communicate excellently to those above you and to those you supervise
· Find a knowledgeable, wise mentor and seek their counsel and advice often
· Mentor others as often as you can get the opportunity
· Teach as often as you can get the opportunity, even if it is low pay or on a volunteer basis
· Remember that every management decision is based on financial metrics like ROI, TCO, and fixed and variable costs per time unit. If you cannot provide such metrics, you cannot get your ideas and/or projects accepted by upper management
· It is essential to adopt meaningful metrics that will help management measure the effectiveness of every activity in which you are engaging. These metrics will be used over time to report your progress and plan for continuous process improvement.
· The growth of technology never stops, so if you stop growing and learning and striving for relevancy, you are on the fast track out of this challenging career field
· In the end, your good name and reputation are the most important things you have. Guard them zealously. (Proverbs 22:1)
Happy Reading!
William F. Slater, III
MBA, M.S., PMP, CISSP, SSCP, CISA, ISO 27002, ISO 20000, ITIL v3, IP v6, Cloud Computing Foundation
Project Manager / Program Manager
slater@billslater.com
williamslater@gmail.com
http://billslater.com/career
Chicago, IL
United States of America
June 5, 2013
---
Visitor Count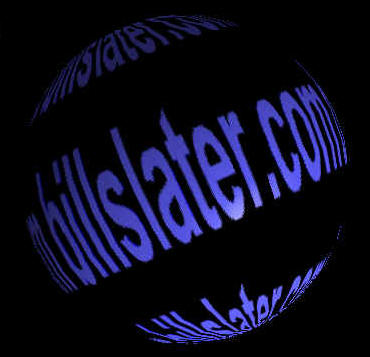 Copyright 1996 - 2013 by William F. Slater, III,
Chicago, IL, USA
All Rights Reserved, Nationally and Internationally.

Last Updated: Sunday, June 09, 2013