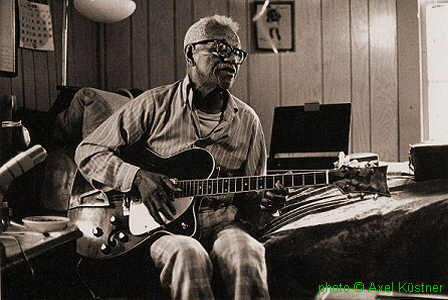 A Tribute to
Bluesman Walter "Furry" Lewis
Most people don't realize this, but Memphis (not Chicago) is regarded as the birthplace of the Blues. There on Beale Street, near the Mississippi River bluff, the blues became refined and acceptable. Later, the Blues migrated north to Chicago and south to New Orleans. While I lived in Memphis, I became personally acquainted with a real honest to God Bluesman.

When I was in college ('73 - '77), I used to hang out in Memphis with country-blues guitarist bluesman Walter E. "Furry" Lewis. I used to go to his shows and occasionally play washboard with him. (He even called me "Washboard" because he could never remember my name.) Besides being a "natural bluesman" and a musical genious in his own right, one of Furry's claims to fame was that he had played with fellow Memphian W.C. Handy, who is widely considered as the "Father of the Blues".

Furry was famous for his ability to sing and play acoustic guitar with a bottleneck slide. Joni Mitchell came and interviewed him, then wrote a song later about him called, "Furry Sings the Blues". She recorded that in 1977 or 1978, and it made Furry mad because he felt that he should have been entitled to some kind of payment or royalties for that song. In 1976, when the Rolling Stones toured in Memphis, they had Furry do the opening set before a crowd of 53,000 people.

Overseas, Furry was an even bigger legend than in the States. One in Sweden, he played before a crowd of 70,000 people. They had an advance hype build up for him and everyone was wearing buttons that said, "Furry's Coming". He gave me one of the extras that he had.

When the Rolling Stones came to Memphis in 1975, they asked Furry to be the opening act and he performed for them and a sell-out crowd at Memphis' Memorial Stadium.

If you ever heard the Lynyrd Skynyrd song, "The Ballad Of Curtis Loew", the person they describe in that song was very much what Furry was like. I used to visit Furry in his modest duplex at 811 Mosby Street in Memphis (in the ghetto). I would bring him a fifth of Jack Daniels Black Label, and he'd play for three hours or so from his bed. Furry was always in bed when you'd go visit him at home.

Furry died in 1981, after a fire in his duplex and the sudden displacement that followed. It caused him to catch pneumonia. He was about 88 when he died.

Below are a few lines from Furry's songs:
From: Casey Jones:
I got it written in the back of my shirt, I'm a natural-born East-Man I don't have to work.
From: I Will Turn Your Money Green:
If you follow me baby, I will turn your money green I'll show you more money, than Rockefeller ever seen.
From: Judge Boushee Blues
Good Morning, Judge.

What will be my fine?

Good Morning, Judge.

What will be my fine?

He said I'm glad I got to see you,

That'll be a dollar forty-nine.

Video: http://www.youtube.com/watch?v=EKxyqNejgHw
From : When Lay My Burden Down
No more crying, or tribulation

When I lay my burden down

All my sorrows, will be over,

When I lay my burden down,

I'm going home to be with my Jesus,

When I lay my burden down.
Click here to see and hear Furry Lewis play this blues masterpiece: When I Lay My Burden Down
Other Furry Lewis Links and Videos, Courtesy of Fellow Furry Fan, my friend Daniel Chlipala
http://myspace.com/walter_furry_lewis

http://www.youtube.com/view_play_list?p=8D19E44050B0D4F0

http://www.youtube.com/results?search_query=furry+lewis+blues&search_type= 

http://youtube.com/chlipala
Furry Appeared on the Tonight Show with Johnny Carson in the Mid-1970s.
When asked about why we was still single, Furry surprised everyone with this reply:
"Tell me, why in the Hell do I need a wife when the man next door got one?"
Furry's Favorite Toast
What he used to say when I would bring him over a fifth of Jack Daniels so he would play for us:

"You know, I promised the Lord that I would never take another drink,
Unless it was by myself, or with somebody!"
I loved this Bluesman. He was walking, talking, singing, smiling, jive talking American musical history. Larger than life, and there for the taking and absorbing. Sometimes, I look back on my college days, and I think Furry was the best thing in my life during those years...
God rest his musical soul. I hope he's up there in Heaven where he'll never have to hock his guitar, or break any guitar strings again.
Here's some notes and remembrances about Furry:



=============
A year before I met Furry, I did my homework on him by studying archive blues collections from records checked out at a local branch of the Memphis Public Library. Most of the Bluesmen I studied from those records had already passed on, except for these three: Big Sam Clark, Mose Vinson, and Furry Lewis. I finally got to meet him when I realized he was playing at a bar near downtown Memphis. I was in awe and fell instantly in love with this character who personified Delta Country Folk Blues, and everything he did. To be in his presence and be able to call Furry a drinking buddy made you realize that you were in the presence of greatness, and you were just grateful for this man and the experience.

============
Furry never married. He lived alone in a duplex at 811 Mosby St.

============
After he played a part in the Burt Reynold's 1975 movie, W.W. and the Dixie Dance Kings, he was asked to appear on the Tonight Show with Johnny Carson. Johnny put Furry on the spot about the fact that he never married. (In reality, it was a rude question.) Furry's response floored Johnny Carson and the Audience. "Damn man! Why the Hell to I need a wife when the man next door got one?!?" Screen photos were taken and published in a local Memphis music newspaper, I think the paper was called the River City Review and the title of the pictures was: Great Moments in Memphis Music History - Furry Lewis appears on the Tonight Show!

=============
Yes - Furry was well aware of Joni Mitchell's song, "Furry Sings the Blues." To be honest, he was disgusted with Joni Mitchell about that, I think primarily because she didn't pay him anything and he felt exploited. More about that at this link: http://jonimitchell.com/library/view.cfm?id=107

=============
Furry was adored by many regarded as an international Blues Superstar by people like the Rolling Stones and fans in Sweden. He told me that once in Sweden, he played before a crowd of 70,000. In Memphis in 1976, he opened for the Rolling Stones at Memorial Stadium. But the bad news is that since mostly rock fans were their, they didn't pay much attention to him. In fact, the majority of the crowd talks and got high while Furry played, in anticipation of the Stones playing. I was unable to attend but I got those facts from others who did attend.

=============
Furry used to tell me and my best friend Paul that he taught B.B. King to play his distinctive slide bottle neck style guitar. A few months later, in 1975, I had the opportunity to meet B.B. King at the Cotton Club, a Memphis night club that was a converted Bowing Alley. When I met B.B. King I asked him for his autograph and asked if he knew Furry Lewis. He said, "Yes, I know Furry." I then told him that Furry had told us that he taught B.B. King to play slide bottle neck style guitar. B.B. King instantly became angry and snapped, "He did not! Furry's a damned liar!" (Obviously, I never recounted this story back to Furry and felt stupid for bringing it up to B.B. King

=============
Furry lived at 811 Mosby St. in Memphis, TN. The duplex where he lived burned down and is now a Church Parking Lot for an African American Church. My last time in Memphis in 2003, I went back there to Mosby Street and looked at the place where the 811 Mosby Duplex used to me. There were some men in suits in the parking lot that gave us strange looks, as if you say, "You are not welcome here, please leave now."

=============
Furry lived out the rest of his days at the end of his life, without much money, barely getting buy on a meager pension from being a City of Memphis street sweeper, playing for modest fees and tips at Memphis bars, and also Social Security. He was frequently hocking his guitar, an Epiphone, with a distinctive black case that was painted up on one of the sides in big fat white letters , "FURRY LEWIS". When people would want to play with him, he would say, "OK, but first you have to help me get my guitar out of the pawn shop." And they would if they wanted to play with him badly enough.

=============
A dobro player, who also played National Steel Guitar, Lee Baker, used to play with Furry on a fairly regular basis. Lee was playing with Furry when I first met both of them. I would later learn, after I left Memphis, that Lee Baker was famous for being the leader of a local eclectic Memphis Folk Blues Rock Band named, Mud Boy and the Neutrons ( http://en.wikipedia.org/wiki/Mud_Boy_and_the_Neutrons ). Lee was kind of an introverted old hippie type who adored Furry and helped him get around. It was mutual. Furry loved Lee Baker and his wife. Furry used to call Lee's wife, "secaterry", which was his way of saying "Secretary." Sadly, I read that Lee Baker met an untimely end in 1996 when he was murdered in Memphis. I was really upset about that, because he was one of the "torch bearers" of the Furry Lewis legacy, in addition to being a kind of musical celebrity his own right.

=============
Through the years, from the 1920s to the 1970s, Furry went in and out of style and popularity many times. There were several collections of his music that were produced by Folk Legacy recording houses and archivists. But perhaps on of the more most interesting recordings was with local Memphis artist, Don Nix. Furry and Don were good buddies and did a great version of "When I Lay My Burden Down". Don and I are friends on Facebook and I linked this post to him. Though Don and I never met personally, we have corresponded via Facebook; he is a good guy and could contribute a lot more than I have. Don also loved Furry as much or more than I did, so I am sure his perspectives would be fascinating.

=============
For others reading this, it was an honor to be asked to recount the memories of a person whose music and character I revered so much. More is at this website: http://billslater.com/furry.htm You can also see many Furry Lewis performances and hear many recording son YouTube.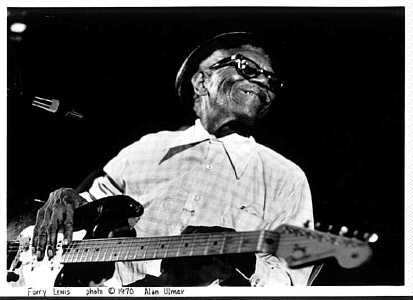 A Short History of Furry Lewis' Life
http://www.nps.gov/history/delta/blues/people/furry_lewis.htm
How Furry Ended Up
In a simple grave in a black folks cemetery in Memphis, lies the worn out body of a simple, but famous bluesman. His headstone is shown below:


Photo by Dorian Henry
R.I.P. Bluesman Furry Lewis - We loved you while you were with us, and we still miss your bight spirit and amazing music.

-///-
By Bill Slater
E-Mail Me: slater@xsite.net
Written in January 1992, Colorado Springs, CO

Published in Delta Snake Blues, December 1997.

Revised in June 2013, Chicago, IL

Delta Snake Blues is a Web-based Blues Magazine dedicated to the preservation of all things connected with the Blues. The Blues was born in Down South and continues to thrive in the United States of America and throughout the far reaches of the planet.