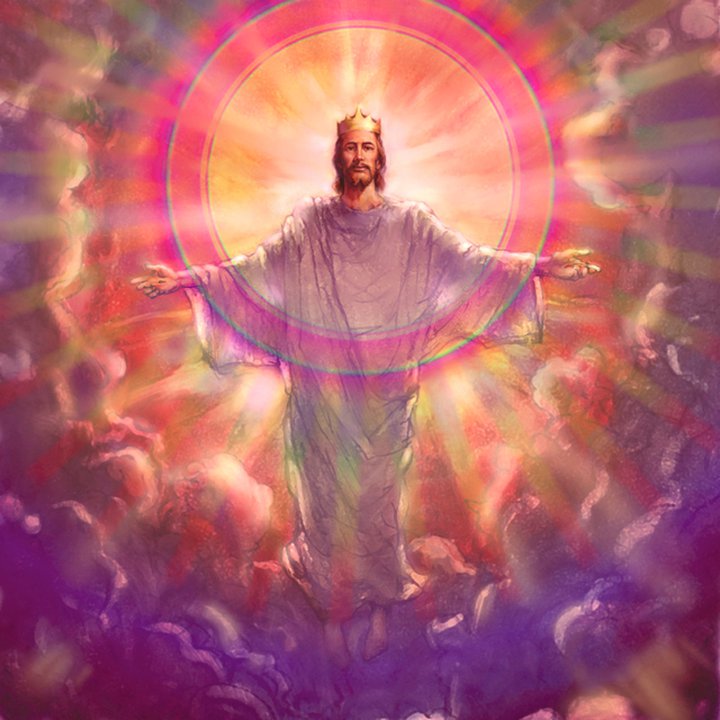 In Christ Alone
--By Natalie Grant


(Performed by Keith & Kristyn Getty)
https://www.youtube.com/watch?v=qLy8ksqGf9w


In Christ alone my hope is found
He is my light, my strength, my song
This Cornerstone, this solid ground
Firm through the fiercest drought and storm
What heights of love, what depths of peace
When fears are stilled, when strivings cease
My Comforter, my All in All
Here in the love of Christ I stand


In Christ alone, who took on flesh
Fullness of God in helpless babe
This gift of love and righteousness
Scorned by the ones He came to save
'Til on that cross as Jesus died
The wrath of God was satisfied
For every sin on Him was laid
Here in the death of Christ I live


There in the ground His body lay
Light of the world by darkness slain
Then bursting forth in glorious Day
Up from the grave He rose again
And as He stands in victory
Sin's curse has lost its grip on me
For I am His and He is mine
Bought with the precious blood of Christ


No guilt in life, no fear in death
This is the power of Christ in me
From life's first cry to final breath
Jesus commands my destiny
No power of hell, no scheme of man
Can ever pluck me from His hand
Till He returns or calls me home
Here in the power of Christ I'll stand


No power of hell, no scheme of man
Can ever pluck me from His hand
Till He returns or calls me home
Here in the power of Christ I'll stand


= = = = = = = = = = = = = = = = = = = = = = =
My Testimony
I was a sinner and I am saved by the Precious Blood of Jesus Christ. By His Grace and Everlasting Mercy, I was plucked from my situation and embraced by Jesus Christ. He is my Lord and Savior and I owe Him everything. I pray every day that I will continue to be allowed to bear witness to the Power of His Love and Grace and Mercy, and that my walk and service to my lovely Wife and fellow human beings will be to His Glory.
Thank You for saving me from a life of sin, self destruction and eternal damnation, Lord Jesus. I owe You everything. May my life and walk with You Lord be pleasing in Your Sight. I want to serve and glorify your Holy name here on Earth and spend Eternity with You in Heaven with the Angels and the other Believers.

Your humble and obedient Servant,
William Favre Slater, III
Chicago, IL
United States of America
= = = = = = = = = = = = = = = = = = = = = = = = = = =
Brother and Sisters and to Those in Search of Truth & Grace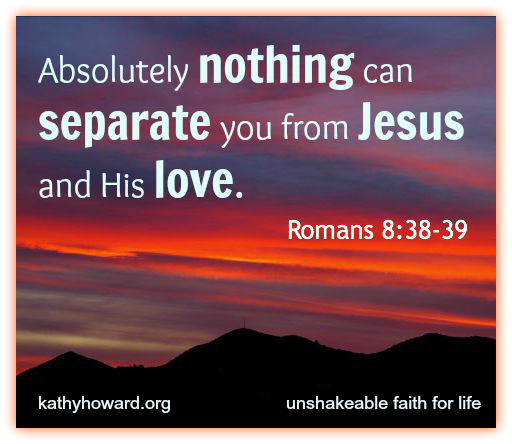 Read Romans Chapter 8
Therefore, there is now no condemnation for those who are in Christ Jesus, 2 because through Christ Jesus the law of the Spirit who gives life has set you[a] free from the law of sin and death. 3 For what the law was powerless to do because it was weakened by the flesh,[b] God did by sending his own Son in the likeness of sinful flesh to be a sin offering.[c] And so he condemned sin in the flesh, 4 in order that the righteous requirement of the law might be fully met in us, who do not live according to the flesh but according to the Spirit.

5 Those who live according to the flesh have their minds set on what the flesh desires; but those who live in accordance with the Spirit have their minds set on what the Spirit desires. 6 The mind governed by the flesh is death, but the mind governed by the Spirit is life and peace. 7 The mind governed by the flesh is hostile to God; it does not submit to God's law, nor can it do so. 8 Those who are in the realm of the flesh cannot please God.

9 You, however, are not in the realm of the flesh but are in the realm of the Spirit, if indeed the Spirit of God lives in you. And if anyone does not have the Spirit of Christ, they do not belong to Christ. 10 But if Christ is in you, then even though your body is subject to death because of sin, the Spirit gives life[d] because of righteousness. 11 And if the Spirit of him who raised Jesus from the dead is living in you, he who raised Christ from the dead will also give life to your mortal bodies because of[e] his Spirit who lives in you.

12 Therefore, brothers and sisters, we have an obligation—but it is not to the flesh, to live according to it. 13 For if you live according to the flesh, you will die; but if by the Spirit you put to death the misdeeds of the body, you will live.

14 For those who are led by the Spirit of God are the children of God. 15 The Spirit you received does not make you slaves, so that you live in fear again; rather, the Spirit you received brought about your adoption to sonship.[f] And by him we cry, "Abba,[g] Father." 16 The Spirit himself testifies with our spirit that we are God's children. 17 Now if we are children, then we are heirs—heirs of God and co-heirs with Christ, if indeed we share in his sufferings in order that we may also share in his glory.

Present Suffering and Future Glory
18 I consider that our present sufferings are not worth comparing with the glory that will be revealed in us. 19 For the creation waits in eager expectation for the children of God to be revealed. 20 For the creation was subjected to frustration, not by its own choice, but by the will of the one who subjected it, in hope 21 that[h] the creation itself will be liberated from its bondage to decay and brought into the freedom and glory of the children of God.

22 We know that the whole creation has been groaning as in the pains of childbirth right up to the present time. 23 Not only so, but we ourselves, who have the firstfruits of the Spirit, groan inwardly as we wait eagerly for our adoption to sonship, the redemption of our bodies. 24 For in this hope we were saved. But hope that is seen is no hope at all. Who hopes for what they already have? 25 But if we hope for what we do not yet have, we wait for it patiently.

26 In the same way, the Spirit helps us in our weakness. We do not know what we ought to pray for, but the Spirit himself intercedes for us through wordless groans. 27 And he who searches our hearts knows the mind of the Spirit, because the Spirit intercedes for God's people in accordance with the will of God.

28 And we know that in all things God works for the good of those who love him, who[i] have been called according to his purpose. 29 For those God foreknew he also predestined to be conformed to the image of his Son, that he might be the firstborn among many brothers and sisters. 30 And those he predestined, he also called; those he called, he also justified; those he justified, he also glorified.

More Than Conquerors
31 What, then, shall we say in response to these things? If God is for us, who can be against us? 32 He who did not spare his own Son, but gave him up for us all—how will he not also, along with him, graciously give us all things? 33 Who will bring any charge against those whom God has chosen? It is God who justifies. 34 Who then is the one who condemns? No one. Christ Jesus who died—more than that, who was raised to life—is at the right hand of God and is also interceding for us. 35 Who shall separate us from the love of Christ? Shall trouble or hardship or persecution or famine or nakedness or danger or sword? 36 As it is written:

"For your sake we face death all day long;
we are considered as sheep to be slaughtered."[j]
37 No, in all these things we are more than conquerors through him who loved us. 38 For I am convinced that neither death nor life, neither angels nor demons,[k] neither the present nor the future, nor any powers, 39 neither height nor depth, nor anything else in all creation, will be able to separate us from the love of God that is in Christ Jesus our Lord.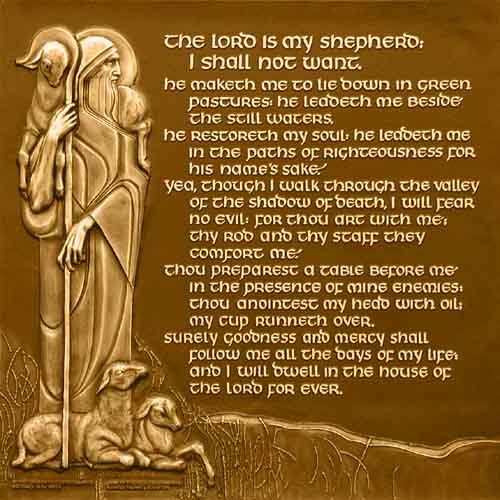 Psalm 23
The Lord is my shepherd; I shall not want.

2 He maketh me to lie down in green pastures: he leadeth me beside the still waters.

3 He restoreth my soul: he leadeth me in the paths of righteousness for his name's sake.

4 Yea, though I walk through the valley of the shadow of death, I will fear no evil: for thou art with me; thy rod and thy staff they comfort me.

5 Thou preparest a table before me in the presence of mine enemies: thou anointest my head with oil; my cup runneth over.

6 Surely goodness and mercy shall follow me all the days of my life: and I will dwell in the house of the Lord for ever.
William Favre Slater, III
Chicago, IL, USA


Last Updated: Sunday, October 23, 2016
Thanks to the Hands and Hearts that guard the Source of these ideas.
--William Favre Slater III