---
Mentor Tribute Page
---
This page is dedicated to the gentlemen who have personally taught, helped, guided, counseled me and inspired me to become a better human being. On this page, I will try to briefly describe my association with these amazing gentlemen, how we met, and how they helped me. I feel most blessed have had their help. There is an old saying, "When the student is ready, the master appears." Perhaps this would explain how I was blessed enough to meet these gentlemen at the various times that I did. It is important to note that I would not be the same person if my path had not crossed the paths of these gentlemen.
---
James Cardell -- My first Judo Sensei
I met Mr. Cardell in the summer of 1969 when I first began taking Judo lessons at the YMCA in Whitehaven Memphis, TN. I was 13 years old and he was the head Judo Coach and Sensei of the Judo Club at that YMCA. I remember Mr. Cardell for his kindness, patience, wisdom, and his love of Judo and teaching. He was a deeply spiritual man with strong religious convictions. After I left Memphis to go into the USAF in 1977, I fell out of touch with Mr. Cardell. I did make one more contact by phone with him in 1985 but after that I have been unable to locate him. Perhaps someday we'll meet in the next Life.
---
Charles Finney -- Mentor in bicycling and wisdom of life.
It might be truly said of Charles Finney, that he even knew me before I was born. It's true. He was fixing my mother's hair from the time she was age 14 or so. I was born when my mother was 21, and Charles saw me a short time afterwards. But we didn't become really good friends until I was in the latter part of my four year college education. Charles and his wife Juanita are two of the finest people I know. Charles helped me and mentored me in the art and science of cycling and the fine bicycles you use for this purpose. Despite some family setbacks in his life. Charles has a heart of gold and has always been an encouraging, uplifting person. He is one of the wisest and kindest and funniest people I have ever known. He still lives in Memphis with his wife, Juanita, in the same home I used to visit him at when I was in college.
---
Will David Mitchell -- My mentor in success, positive thinking, and motivation.
I met David Mitchell in Spring of 1978, shortly after I entered the US Air Force at Strategic Air Command Headquarters, Offutt AFB, NE. He was a major and I was a second lieutenant. We met through a family oriented organization called Officer's Christian Fellowship. I consider David to be one of the smartest, most creative, and most positive people I have ever met. He was also an excellent USAF pilot who flew the tankers which refueled SR-71 reconnaissance planes. Once when I had told him for the third or fourth time that I was going to apply for USAF pilot training, he asked me, "Well, have you gotten your application in yet?". When I told him, "No, I'm still working on it...". He quickly asked me, "Well, Bill, what's the answer if you don't apply?" That question was a good wakeup call for me, and a very typical David Mitchell question. I did get my pilot training application in but unfortunately was never selected. Through the years, David has been very encouraging regarding my personal pursuit of my career and my dreams. He is a devoted family man, and a loyal friend for many years. It was guys like David and the three guys who follow, who made it worth it to serve on active duty in the USAF. One other point, David is a BRILLIANT mathematician and software engineer. In 1979, he solved a major problem involving complex tanker scheduling algorithms using a TRS-80 and TRS-BASIC, when a group of 21 people couldn't solve the same problem using a Honeywell mainframe and a Honeywell mini-computer. And recently he wrote a Visual Basic application which generated $4 million of revenue for his company. Besides being my mentor for success, positive thinking, and motivation, David is one of the greatest computer people I know. The irony of this is that David's real passion is writing novels. Look for him on the bestseller's list in the near future!
---
David K. Higgins -- My mentor who personally coached me on managing politics and my Air Force career.
David Higgins worked in the same office I did for about a year and a half. David is a now a co-pilot for United Airlines, but in those days, he was beating his brains out against computer source code listings of poorly written JOVIAL code at SAC Headquarters, and watching me do the same just a few feet away in the same office. One advantage Dave had on me was that he was older, more experienced, and a graduate of the US Air Force Academy. While he was getting to know me, Dave watched me make several political mistakes there in our organization. (I was REALLY naive!) After a few months, he ever so gently took me under his wing and proceeded to teach me backgammon, while engaging me in coaching and meaningful conversation about the situations I was going through. Dave was a pilot in the Air Force serving in his first non-flying staff assignment, and we were both working in an organization of programmers who were former navigators. Dave's sage advice helped me a great deal during my time as a young lieutenant days in the Air Force.
---
Bill Harper -- My first computer mentor, who coached me about computers and life in the Air Force
Bill Harper is an authentic, down-on-the-farm, Kansas boy who was smart enough to join the US Air Force, seeking to become a pilot. When that didn't work out, he worked in AF Intelligence for a while, then found himself a while later at SAC Headquarters doing computers. Bill was 12 years older than me, but we were very similar personality-wise, so we got along very well. After a few bad experiences working for the evil navigators, I got assigned to work for Bill, in an area where I had to learn about software configuration management, system utilities, and software testing. Bill was a great mentor, and I was an eager and dedicated protégé'. besides the fact that he was a great computer guy and a great computer mentor, Bill had this incredible knack for working so smart, and so hard that he was literally doing the work of 2.5 to 3 people. When he left our unit, to take a special duty assignment in Arizona, I was the one who they appointed to take Bill Harper's job. What an honor and privilege that was! It was through his influence and guidance that I started on the road to becoming the computer professional that I am today. Somehow, though the years, I lost touch with Bill Harper, but I hope that he's out there, alive and still kicking but in computers. Maybe someday, I'll find him on the Internet and be able to tell him about his special tribute attached to my Home Page.
---

LTC Frank D. Hale, USAF
(circa 1981)
Frank D. Hale -- My mentor in the Air Force who I most admired and wanted to be like
Frank Hale is one of those tough as nails guys, who reminds me a bit of the Captain James T. Kirk character on the Star Trek series (and movies). He was a pilot who flew A-1 Sky Raiders and B-52s, as well as some other aircraft I can't recall. His last two jobs at SAC Headquarters were 1) supervising the operations that provided 24 x 7 computer support for WWMCCS (ADOF) computers and software as well as the War Gaming (ADW) computers and software; and 2) providing direct command office support to Brigadier General Donald Evans, who was the SAC AD. From there he attended the Air War College in residence and then went to the Pentagon for a big assignment, where he made Colonel (O-6). He is tough, humorous, inspiring, wise, and very smart. He had all the makings of the kind of guy you'd gladly follow into battle, and/or work your tail off for. Frank retired as a Colonel and lives and country dances in northern Virginia in the DC area.
---
Michael Law -- My second Judo Sensei who made quite an impact on my life
Mike Law is a great Judo coach and Sensei. He is also one of the toughest and meanest competitors you would ever face on the Judo mat! This guy made all the difference in the world when I decided at the age of 28, to return to the sport of Judo. He coached me and encouraged me to the point where I achieved three important goals in Judo: I won my first First Place championship, 17 months after I returned to Judo; I achieved an official double certification in Judo instruction from the United States Judo Association and the American Coaching Effectiveness Program; and I was promoted to the rank of First Degree Black Belt (Shodan) in Judo in 1988. Mike is the guy who told me, to "remind yourself to dream about Judo in your dreams, and when you are doing Judo in your dreams, imagine that you are doing PERFECT JUDO and all PERFECT THROWS...". This advice was critical in achieving the first First Place award that I ever won in Feb. 1986. It was truly a life changing experience, because I had never accomplished anything like that before. Mike used to keep in touch, talking on the phone now and then. In the past few years, I think he seems to have dropped off the face of the Earth. Yet, I am still thankful for how this great Judo Sensei helped turn me into a winning black belt Judo player and Judo Instructor.
---

James P. Jarnagin -- My Computer Mentor, a father figure and best friend
Jim and I met in 1985, in downtown Houston, TX, in the computer book section of a Walden bookstore. I was just bold enough to attempt to advise him about a computer book purchase. When he inquired who I was and how long I had been working with computers, he asked, "Well tell me, do you have 8 years of computer experience, or one year's experience eight times?" I thought for a second, and said, "Well, I have eight years of experience!" And from that day forward, it turned into a great friendship and a classic mentor-protégé' relationship. Jim is STILL the sharpest computer person I ever met, and one of the hardest working, most intelligent, kindest, most dependable, and most profound people I ever met. When I get off on a tangent about something new I have learned or something I am planning to do with computers and I go to Jim to share it with him, he always responds with, "Now wait a minute...". And that's the way he is, always thinking of the critical details, the unseen gotchas, the subtleties which bite you in the ass... Jim has either been there and experienced it, or he has the knowledge, historical perspective, skill, experience, and wisdom to know to avoid it. He has done such a good job of guiding and coaching and mentoring me through the years, that I'd have to say that Jim is my best friend as well as my mentor. He has also in many ways, been like a father-figure to me. Jim is 20 years my senior, but has the mindset and looks of someone 15 years younger than he actually is. Besides being a great engineer and computer professional, he is a dedicated family man. He has six grown children, and many grandchildren. Jim is the most admirable and amazing guy I have ever known. I just can't say enough good things about this man.
---
Patrick Keating -- My third Judo Sensei, and the coolest Judo Coach in Chicagoland
Mr. Pat Keating is a great friend, great Judo coach, great Sensei and an inspiring guy. He has a 6th Degree Black Belt in Judo, and enough Judo knowledge to be a walking Judo encyclopedia. Yet, he is so humble, plain-spoken, and down to earth, that you'd think he is just a plain ordinary guy from an Irish American Chicago family. Pat's poor body has withstood the batterings of tough Judo matches and some unfortunate car accidents (none were his fault). Though he is frequently in pain from these mishaps, Pat always a kind word and a smile for people. He loves knowledge and learning, and it shows because he is working on his second doctoral degree. As the proud father of two great sons, Pat is one of the most dedicated family men and exemplary human beings I know. His wife Jan, is a great lady and Pat's best friend. No wonder he always has a smile for everyone!
---
Copyright 1996 - 2010. All rights reserved nationally and internationally.
Last Updated: Tuesday, March 02, 2010
William F. Slater, III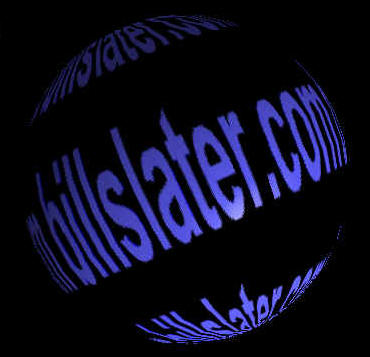 ---
---