December 26, 2004
A date that will live in Infamy:
The Tsunami from Hell
Wreaks Havoc, Death, and Devastation in Indonesia, Thailand, Sri Lanka, Somalia, and several other South Asian countries.


Picture from Corey Koberg's Website
Photographer unkown.
OK, like so many others, I too, thought the Tsunami from Hell was horrible. Though this picture above is NOT from the Dec. 26, 2004 Tsunami, you can imagine that this is similar to what it looked like. Click on the thumbnail picture to enlarge for more detail. Just one thing I cannot understand: Why are so many people in this picture smiling and grinning in the excellent tsunami action picture shown above? They are obviously in the final moments of their lives!
In any case, we pray for the Dec. 26, 2004 Tsunami survivors that their lives will eventually return to some state of normalcy, and we also pray for the relief workers and especially for the U.S. Military men and women who have embarked on the greatest humanitarian mission of all time. May God bless you all and watch over you!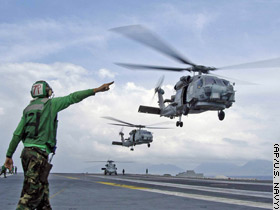 Helicopters from the U.S.S. Abraham Lincoln
Aircraft Carrier take off to give aid to Tsunami Survivors
Some good web links to visit for this crisis:
OXFAM
Red Cross
Tsunami.com
Finally, please be on the lookout for Internet Tsunami Relief Scams (ITRS). They are evil and there are now 10s of thousands at work. Visit this link with important information from the FBI.
Tips from the article:
State officials and watchdog groups offer the following advice for potential donors:
_ Contact the Better Business Bureau, the White House's USA Freedom Corps, an office that encourages volunteering, or the state office that tracks charities to verify the organization you intend to make a donation.
_ Do not give out personal or financial information such as Social Security, credit card and bank account numbers to anyone soliciting a donation.
_ Do not give cash and ask for a receipt showing the amount of the contribution and showing it is tax-deductible.
_ Ask what percentage of your donation will support the cause described in the appeal.
_ Go directly to Web sites of recognized charities instead of following links sent in unsolicited e-mails, which could be fraudulent.
_ Be wary of e-mails that claim to show pictures of disaster areas in attached files; they may contain viruses.
---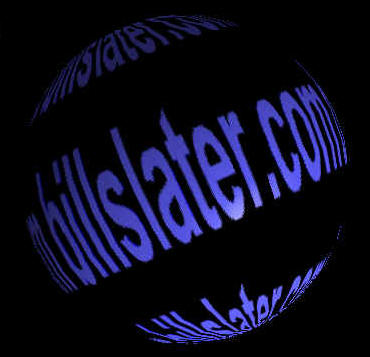 Copyright 2005 by William F. Slater, III, Chicago, IL, USA, All Rights Reserved, Nationally and Internationally.
Last Updated: Wednesday, September 30, 2009