From Chicago to Warsaw with E-Mails and Love:
A Wonderful (and True) Internet Love Story

A Rose for my Precious and Lovely Bride

William Slater and Joanna Roguska
Our Wedding Date: December 3, 2000
Celebrating Five Wonderful Years : December 3, 2005
14th Anniversary of Joanna Roguska's Arrival in the U.S.
Special Note: This relationship was made possible by the Internet, the people who invented it, and by a series of events, which while they were in progress, seemed like luck or coincidence. We now know that we were destined to be together. And last but not least, we do not discount the fact that the God of the Universe was at work here. It may be helpful to point out that sometimes an "Internet Romance" immediately conjures up thoughts of racy, erotic e-mails and steamy "cybersex" chats. But that's not how it happened with Joanna and me, and I can honestly say that we have never even exchanged such electronic communications. Perhaps, I should also divulge here that I have never known Joanna to be anything less than 110% of a Lady in every circumstance I have ever seen her in. She is an absolute credit and a blessing to her upbringing, to her parents, to her family, to me, and to everyone she knows. As you will soon see, I think Polish women are THE BEST!!!
In August 1999, Joanna, whom I did not previously know, began to e-mail me from, Warsaw University (at sci.psych.uw.edu.pl) where she was employed, about a website I did on one of the South's Greatest Civil War leaders, Lt. General Nathan Bedford Forrest. Wouldn't you know it? She found my website in the search engines. The e-mails were at first just informational in nature, then they became friendly and so I had a new e-mail penpal. By mid-October 1999, we had both extended invitations to each other to visit.
Screen Shot from a Web Flight Tracker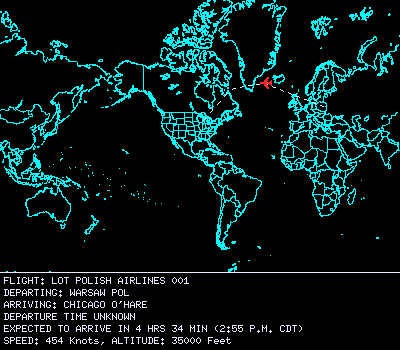 An actual Screen Shot of Joanna's Flight to the U.S. from the Web on June 22, 2000.
The red plane is Joanna's actual position at 9:20am Central Time

In June 2000, Joanna she accepted my invitation and bravely came to visit me in the U.S., expecting to stay as my guest and my friend until the end of November 2000. That's what I expected too. I must honestly admit that she was only my friend at that time. It was her first time visiting the U.S., and I and all my friends treated her like she was a special emissary visiting the U.S. from Poland. Shortly after arriving in Chicago, she was having so much fun in the U.S. as my guest, that she elected to extend her visit until December 21, 2000. But in a twist of fate that we both still do not completely understand, we fell in love with each other and decided to marry on December 3, 2000, before she was to return to her native Warsaw on December 21, 2000.
All I can say is that Joanna is the most wonderful person I ever met and that I love her more and more each day. A quick look at our wedding vows below will confirm that this marriage was not entered into lightly and without some serious thought.
Christmas 2000 with Joanna and her lovely family in Warsaw was the best Christmas of my life. Her parents gave us a wonderful wedding celebration party on December 28, 2000 in the great little town called Ladek. There were about 18 people at the party and it was the finest party of my life. Everyone was warm and friendly and though I only speak about 10 - 12 words in Polish, the smiles and warmth came right through and Joanna's incredible two-way translations confirmed that. I am so proud to be married to Joanna and be a part of this wonderful family.
In case any of you wondered, I have the coolest in-laws in the world. See the pictures below.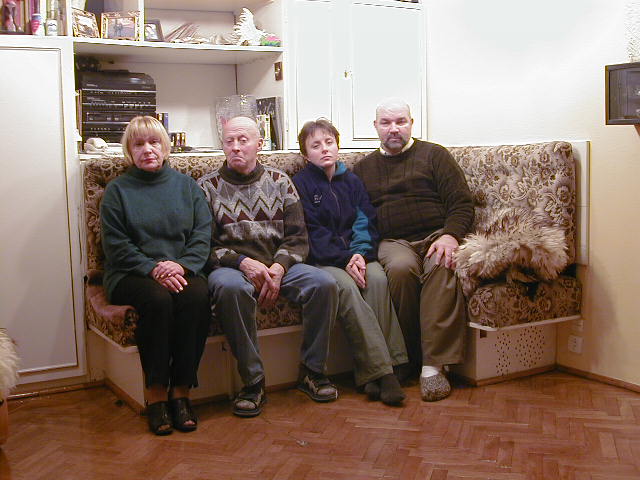 Christmas 2002
Wiesia and Wiesiek Roguski, with Joanna Roguska and William Slater
(pronounced Vee-a-sha and Vee-a-shek)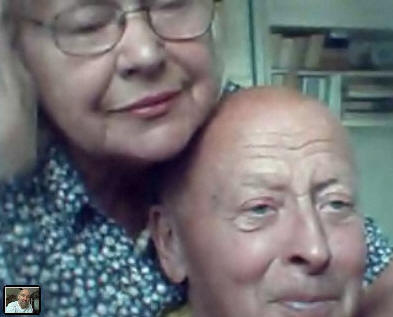 Wiesia and Wiesiek Roguski
August 2007, screenshot from a conversation on SKYPE
Joanna and I are now going through the immigration process and are hopeful that things will be worked out quickly and easily. Watch this space for Joanna Roguska Homecoming information. It will be a very important day for both of us. By the way, Thank God for the Internet! It has allowed us to inexpensively keep in touch several times on a daily basis.
Thank you for reading this and sharing in our joy.
William Favre Slater III
The Luckiest Guy in the World (because Joanna is my Bride and I married into a great Family!)

---
Joanna Roguska Homecoming Information
February 18, 2001
After being in Warsaw since December 21, 2000, my lovely bride, Joanna Roguska, returns to our home in the United States during the first part of March 2001. We are both overjoyed because we have been apart, due to the need to get visa approval from the U.S. Embassy in Warsaw, since January 3, 2001.
March 3, 2001
Joanna met with the officials at the U.S. Embassy on 3/02/2001. All papers were in order except for some minor financial documents which were faxed to her this morning. We anticipate that the visa will be granted on Monday or Tuesday, March 5 or 6, and that she will return to Chicago between now and March 12, 2001. Besides, we have a Corrs concert in attend in Chicago on March 14, 2001, and we cannot miss that!
On another note, lookout Chicago! My wife has become a new Flash Master while in Warsaw, and she will be ready to develop some amazing websites in Flash 4 and Flash 5 when she returns.
March 5, 2001
Joanna received her visa on Monday afternoon, March 5, 2001. Hooray! She is finally coming home after being away from me since January 3, 2001.
March 6, 2001
Joanna buys her ticket for her return on LOT Airlines.
Joanna returned to our home in Chicago. Thank God for His Tender Mercies, and Unlimited and Unmerited Grace. Pictures of the reunion are shown below as thumbnail pics. Click on each to see the larger version. (These were taken shortly after Joanna was processed through U.S. Customs at OHare International Airport. This was one of the happiest moments of our lives!). After we got her luggage in the car, we traveled to nearby Basilico's, the restaurant where we had our wedding dinner, for a lovely meal for just the two of us. The next day, she was so happy about our reunion day that she remarked, "It was wonderful. It was like getting married all over again...".
| | | | | | | | | |
| --- | --- | --- | --- | --- | --- | --- | --- | --- |
| | Joanna and Bill hug to celebrate their wonderful reunion. | | Joanna and Bill pose with red white and blue flowers and fresh bread and salt that he brought. (the bread and salt is a traditional Polish gesture of greeting) | | Joanna and Bill celebrate their reunion with a kiss. | | Bill displays his strength and plays like he is Rhett Butler with Joanna. | |
March 30, 2001
We are still overjoyed about being back together. Joanna says that "this marriage thing is a great idea, because it's like being on a continuous date with your husband..." I agree. And we are very grateful to God for each day we get to spend together. We know we were made for each other and just being together is what makes us the happiest.
December 3, 2005
We celebrated five wonderful years of marriage!
December 22, 2005
Joanna has her website at www.arielscreations.com contains her portfolio and other interesting examples of her work. You should visit and see how her web development career is progressing. She has learned HTML, Perl and graphics from me, and she taught herself Javascript, Dreamweaver, PhotoShop and Flash. She really enjoys working with these tools and has remarked to me that it is so much fun it doesn't seem like work.
November 16, 2006 - Joanna K. Roguska becomes a U.S. Citizen
On the 14th Anniversary of Joanna Roguska's Arrival Here in the United States
14 years ago today, my Pen Pal, Joanna Roguska , bravely traveled on LOT Polish Airlines to Chicago from Warsaw Poland so she could explore America and get to know me in person. To my surprise, we fell in love and married in December 2000. In short, I married my Soul Mate and became part of a wonderful family that loves me better and treats me better than even my own family treated me when I was growing up. To me, it is one of the great miracles of my life, and living proof that God loves me and continues to love me. Words cannot express the love, admiration and gratitude I have for this amazing woman, my lovely Bride, Joanna. In my mind, the day she got off the plane and got through U.S. Customs at O'Hare International Airport, and we first met face to face, my life changed for the better. I realized that my Heart had come home to me. And though I never intended for any of this to happen, I will always be grateful that it did. It's been the best 14 years of my life, starting on June 22, 2000. Thank you for being my best friend, my wife, and my Soul Mate, Little Bride.
Our first picture ever taken together is on the left, and the picture on the right was taken on Saturday June 21, 2014 was taken as we sailed on the Windy Tall Ship on Lake Michigan.

Joanna Roguska and William Slater
June 22, 2014
Our wedding pictures are at this link.


A Rose for my Precious and Lovely Bride
---
Visitor Information
---
Copyright 1996 - 2016 by William F. Slater, III, Chicago, IL, USA, All Rights Reserved.
Last Updated: Sunday, January 31, 2016