In Celebration of
600,000 Hits at http://billslater.com
July 24, 1998
To celebrate the 600,000 hit count mark, I joined the HTML Writers Guild and the Association of Ethical Internet Professionals. To learn more about these important Internet-related organizations, click on the pictures below.
In addition to joining these organizations, I have started to take usability on my website very seriously. I placed a table of contents and several bookmarks throughout the first page at http://billslater.com. I also created a mapped gif (see below) which makes it easy to jump around to the various topic areas of my main page. And my new look for all my major pages will also include a little table at the top which tells you exactly where you are on my website, and how to quickly get back to the main page. You see I recently taught classes on web design and development, and it made me think I better start practicing what I was preaching!
Table for Standardized Look and for Website Navigation
(this is from the top of the Elvis Shrine Page )
Mapped Images for Website Navigation
Actual Menu Mapped Image from http://billslater.com

Try Clicking on the topics below and you will see that this even works from here.

Clickable Image for Returning from a Section to the Menu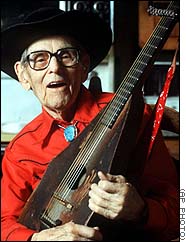 Jimmy Driftwood
1907 - 1998
Finally, I wanted to share with you that I wrote my very first obituary ever. It was for my dear friend, Jimmy Driftwood, who passed away on July 12, 1998. Jimmy and his wife, Cleda, who were from Timbo, Arkansas, have been like grandparents to me. I will really miss Jimmy. He has been one of my biggest inspirations about playing and learning and enjoying music. You might want to check out the Jimmy Driftwood Memorial Page on this website. It has gotten a lot of hits since I put it up as soon as I heard the news on July 12.
See you when http://billslater.com hits the 700,000 hit count mark.
Bill Slater

E-Mail Me
Last Updated: July 23, 1998
By Bill Slater, Webmaster
http://billslater.com
---