Bill Slater's Music Page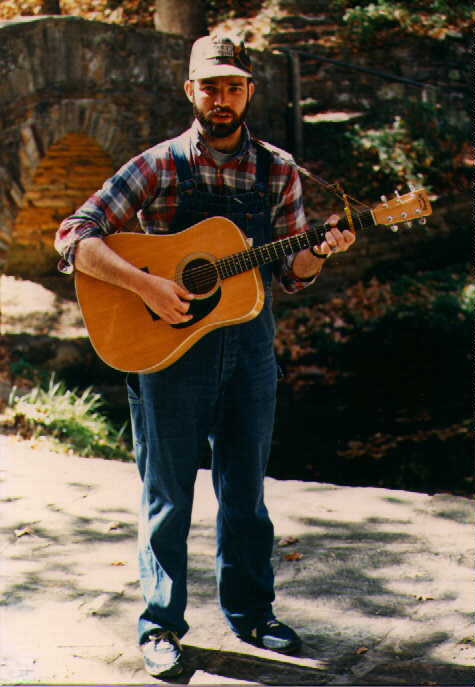 This is me with my guitar in October 1987,
in the city park of Mountain View, Arkansas.
My guitar's name is "Claudia", after the friend
who introduced me to Andreas Vollenweider music.
---
"Now do you believe in rock and roll? Can Music save your mortal soul? Can you teach me how to dance real slow?"
-from "Bye Bye, Miss American Pie" by Don McLean
I love music. All kinds actually, except rap or hip-hop. First and foremost, I love Andreas Vollenweider music. I try listen to Andreas Vollenweider music every day. It easily puts me into another reality and has a very soothing, calming effect on me.
My favorite male vocalist (besides The King) is Peter Rowan. My favorite female vocalist is Enya. You may want to view my favorite albums page at
http://billslater.com/favorite.htm
.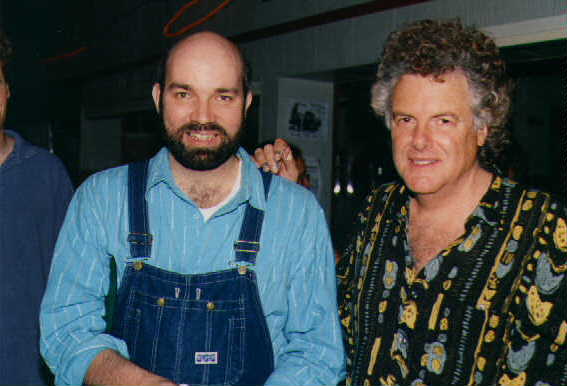 This is me with Peter Rowan in July 1993, in the Boston Area.
It was our fourth meeting and I was very excited!
He writes fantastic music and his performances are incredible.
At this particular concert, he introduced and gave the
first live performance ever of the entire body of work on the CD,
"Awake Me in the New World." It was unbelievable and has probably never
been equaled, because of the complexity of the music and the lyrics.
I also love performing. I play, sing, and write music. Sometimes I play alone, and sometimes I am fortunate enough to play with a group. But best of all, I just like to play for other people. I am a real entertainer at heart. This is what I play:
Guitar
Mountain dulcimer
Washtub bass
Washboard
Kazoo
Jawbone
The types of music I play are folk music, country, bluegrass, some popular stuff (like the Beatles) and mountain music. I really love to play live performances, but I HATE to play in smoke-filled places, so I don't get out to play as much as I did in the 1980s. But if you are interested, please contact me when you are in Chicago, and we'll arrange to get together so I can play a small concert for you - for FREE, of course.
---
Some Of My Favorite Musicians By Category Of Music:

Y

ou can tell a lot about a person by the type of music they buy and listen to. I have over 2000 LP records, over 500 cassettes, and over 1000 CDs. A sampling of artists from my huge music collection is shown below.

Popular and Rock

The Beatles

Creedance Clearwater Revival

Big Head Todd and the Monsters

Paul McCartney

Jethro Tull

Steve Winwood

Eric Clapton

Cream

Yes

Basia

Clannad

Don McLean

New Age

Enya

Yanni

David Gilden

Chris Spheeris

Peter Maunu

Folk

Peter Rowan

The Bothy Band

Glen and Nellie Branscum

Bob Dylan

The Banded Geckos

Joni Mitchell

Jessie Winchester

Lyle Lovett

Tommy Elkes

Liz Carroll

Lunasa

Classical

George Gerschwin

Ludwig von Beethoven

Johann Sebastion Bach

Georges Bizet

Wolfgang Amadeous Mozart

Peter Ilyich Tchaikovsky

Rimsky-Korskov

Antonio Vivaldi

Johann Strauss

Soul / Rythym and Blues / Funk

Al Green

Booker T. and the MG's

Stevie Wonder

Marvin Gaye

Minnie Riperton

Sly and the Family Stone

The Isley Brothers

Country

Lyle Lovett

Willie Nelson

George Strait

Jazz

Psapp

David Benoit

Kirk Whalum

Jan Hammer

Patrice Rushen

Jean-Luc Ponty

Michael Franks

Other Music That I Like
============================================

Acoustic Alchemy
Al Green
America
Andreas Vollenweider
Black Oak Arkansas
Buena Vista Social Club
Crosby, Stills and Nash
Crosby, Stills, Nash & Young
CSN
CSN&Y
David Bowie
Dervish
Elvis Presley
Emitt Rhodes
Fon Mohr
Furry Lewis
Israel Kamakawiwo'ole
J.S. Bach
James Ward
Jeff Lynne and the Electric Light Orchestra
Jesca Hoop
Liz Carroll
Lunasa
Lynyrd Skynyrd
Marc Cohn
Max Lasser
Mindy Jostyn
Orchestre Baobab
Paul McCartney
Peter Maunu
Peter Rowan
Psapp
Pure Prairie League
Puro Son
R. Carlos Nakai
Steely Dan
Stevie Wonder
The Beatles
The Bothy Band
The Corrs
The Drovers
The Police
Tommy Elskes
Vollenweider

---
Last Updated: Thursday, March 18, 2010
William F. Slater, III